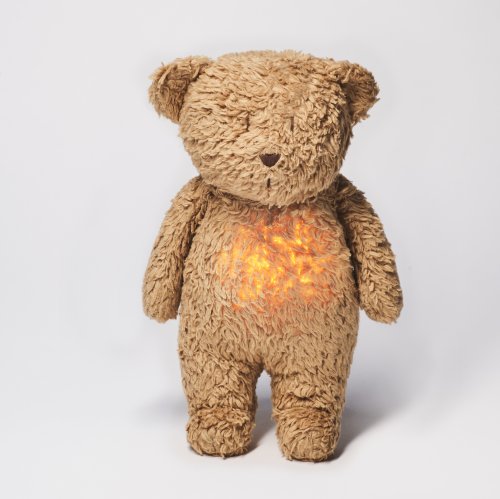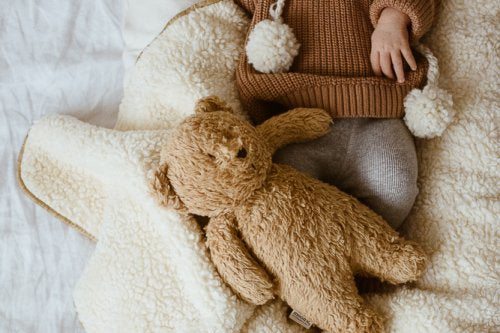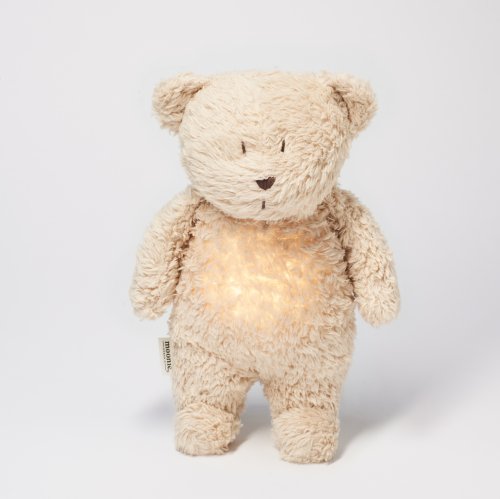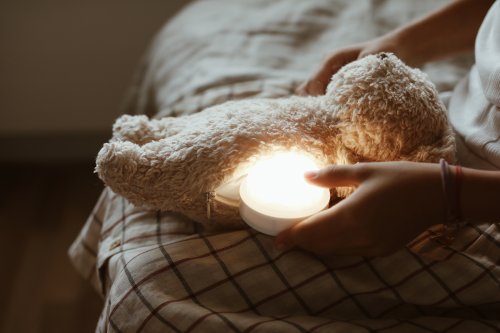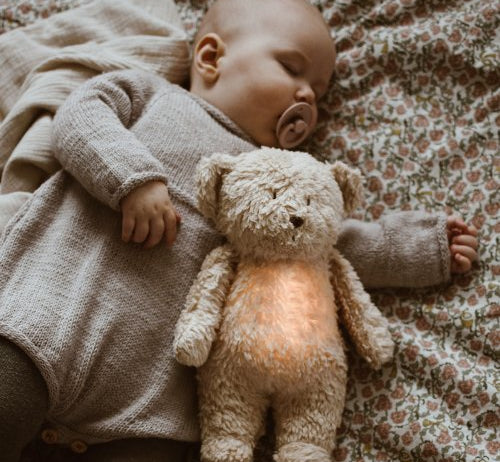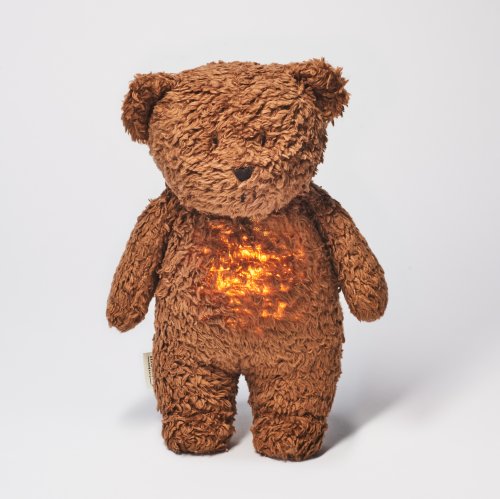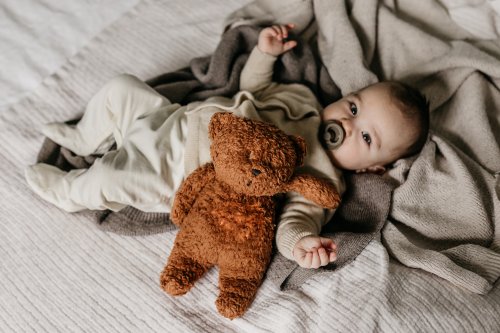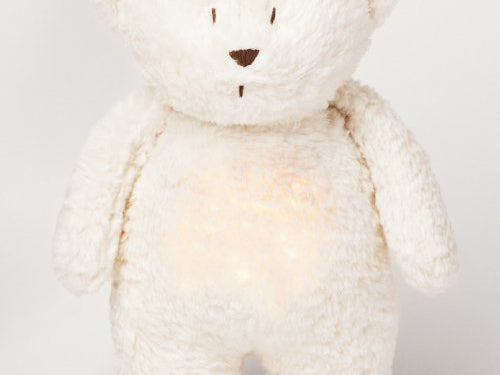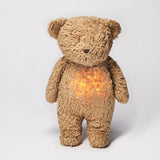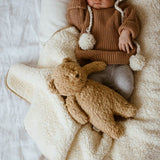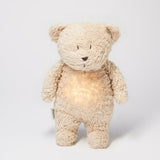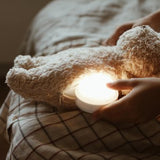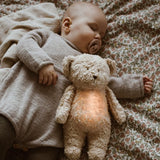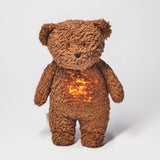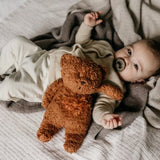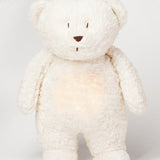 Moonie Organic Humming Bear
SAFE NATURAL PINK NOISE.
The sounds of MOONIE humming bear are non-computer generated, real recordings of natural pink noise.
The heartbeat sound is a real recording of the hum inside a mom's belly. It allows the child to calm down and feel safe, with already well-known sound. The sea waves you hear are of the Baltic Sea and the sound of the mountain stream are recordings of the stream in Tatra Mountains.
The MOONIE'S soothing sounds filters out the sounds from the surrounding and ensures children a calm and peaceful sleep.
MOONIE comes with an adjustable volume module. so you can choose the appropriate volume level that suit your child's needs.
MOONIE also has calming lullaby composed on a kalimba, especially curated for newborns.
WHY PINK NOISE.
Babies, while still in their mother's womb, are surrounded by low frequency sounds. That is why we have used the safest for children, natural pink noise to ensure that we provide the ultimate comfort for your child.
With pink noise, the acoustic power of high frequencies decreases, thanks to which high-frequency sounds are at a safe level for babies, and for an adult they are almost inaudible.
With white noise, the sound power with all frequencies remains unchanged (horizontal line in the diagram). In fact, this means that sounds with higher frequencies, at the same power level, are more audible than sounds with lower frequencies.
MOONIE HUMMING BEAR WITH NIGHT LAMP.
Each MOONIE hummingbird friend also has a night lamp that can shine in 7 different colors.
Soft light allows you to feed and change your child without turning on the light. When the child starts to cry, the lamp turns on with the drone, it illuminates and calms the child.
The LED lamp does not heat up, it is completely safe. The humming MOONIE bear lamp is also perfect for older children, who often have nightmares and are afraid of the dark. The night light can be switched on without sound and left on overnight.
SMART CRY DETECTOR.
MOONIE the humming bear has a Smart Cry Detector, designed for moments when your child suddenly wakes up. As soon as your child starts to stir, the Smart Cry Detector triggers a safe, natural, pink noise soothing your child ensuring they return to a restful sleep.
MOONIE the humming bear always mutes itself after 30 minutes and automatically goes into a 3 hour standby mode. The baby's crying triggers the last selected hum for another 30 minutes, then the cycle repeats. The Smart Cry Detector can also be turned on directly without playing the noise.
CONVENIENT AND ECOLOGICAL CHARGING VIA USB.
We know having a child is a tough job as it is without having to wake up in the middle of the night to change batteries. Our module has a built- in USB rechargeable battery which makes our MOONIE convenient, economical, ecological.
MOONIE is the only humming toy that doesn't require the purchase of batteries. The module comes already charged and can be used right out of the box. We wanted to make sure the toy is environmentally friendly as well as not have to force you to constantly buy batteries.
The MOONIE module needs 3 hours to be fully charged. A fully charged battery lasts up 8 hours of continuous operation with the light and sound switched on.
CERTYFICATES AND SAFETY.
All Moonie products are tested at SGS Switzerland Test Laboratory and comply with Directive 2009/48/EC, certifying that they are suitable for new borns.
Thinking about future of our planet and new generations, Moonie have put a lot of effort to reduce organic product line: MOONIE ORGANIC.
These special toys are made of certified organic cotton and each toy's filling comes from recycled materials.
By making teddy bears from GOTS certified cotton.
---
Free shipping on orders over 70€
Moonie Organic Humming Bear
FAQ

How long will it take for my order to be delivered?

Orders are prepared and dispatched the same or the next working day at the latest. Delivery by Omniva usually takes 1 to 4 working days.

Can I buy goods on the spot?

On-site purchases at our office in Jelgava, Dobele highway 2, can be made in cash only, by prior arrangement.

Is it possible to inspect the goods on site?

By prior arrangement, it is possible to inspect and purchase the goods on site at our office in Jelgava, Dobele highway 2.

Is it possible to return the goods?

The buyer has the right to withdraw from the ordered goods within 14 days from the receipt of the order by consulting the return policy on our website.
Shipping

Delivery via Omniva parcel machine

Delivery in Latvia by Omniva parcel machine, price - 2.85 EUR


Delivery in Lithuania and Estonia via Omniva parcel machine, price - 5.85 EUR

Delivery by Omniva courier

Delivery within Latvia by Omniva courier, price - 6.85 EUR


Delivery in Lithuania and Estonia by Omniva courier, price - 9.85 EUR

Pick-up at Zazzaa

Pick-up at the Zazzaa office in Jelgava - free of charge.


We will inform you about the time of order pick-up at Zazzaa office by phone within 1-2 working days.


Cash only is accepted for on-site pick-up.
Maybe I can get a discount?

Is there a discount for Latvian Honorary Family Card?

Yes, our e-shop supports large families who are holders of the Latvian Honorary Family Card (3+ family card) with a 15% discount on every purchase.

Discount does not stack with existing discounts.

What about Birthdays?

15% discount on your child's birthday present!

The discount can be used one week before the child's birthday and up to the day of the celebration.

To get your discount, contact us by phone +37126903626 or email info@zazzaa.lv

Discount does not stack with existing discounts.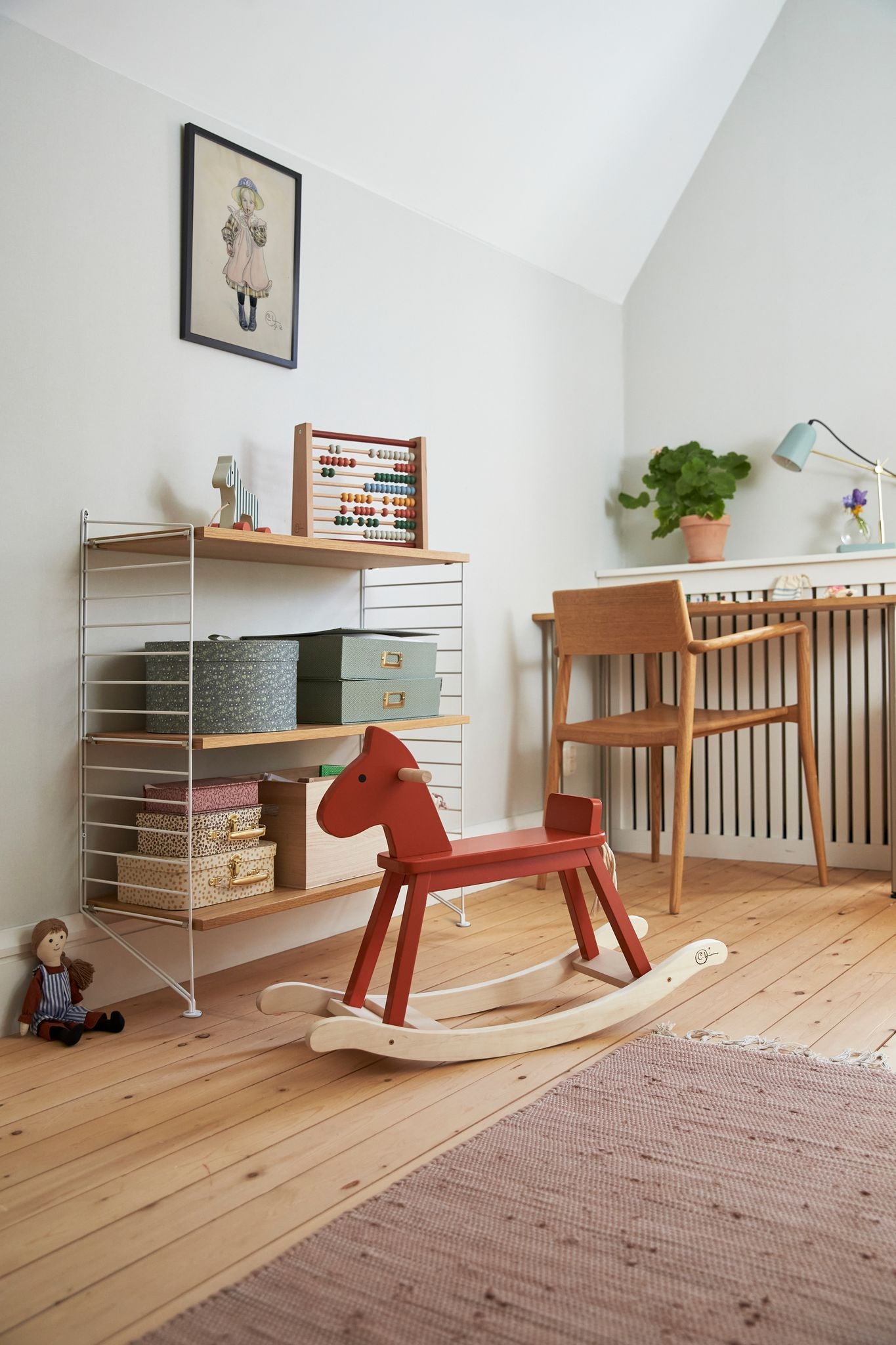 High Quality Material
Quality Craftsmanship for Little Champions!
At Zazzaa, we prioritize excellence. Each product, crafted with high-quality materials, ensures durability and the premium touch your child deserves. Choose enduring quality - choose Zazzaa.
Kids Friendly
Curated for Kids, Loved by Little Ones!
Discover items that delight and captivate. At Zazzaa, our kid-friendly selection is designed to resonate with young hearts, blending fun with function for smiles and memories galore.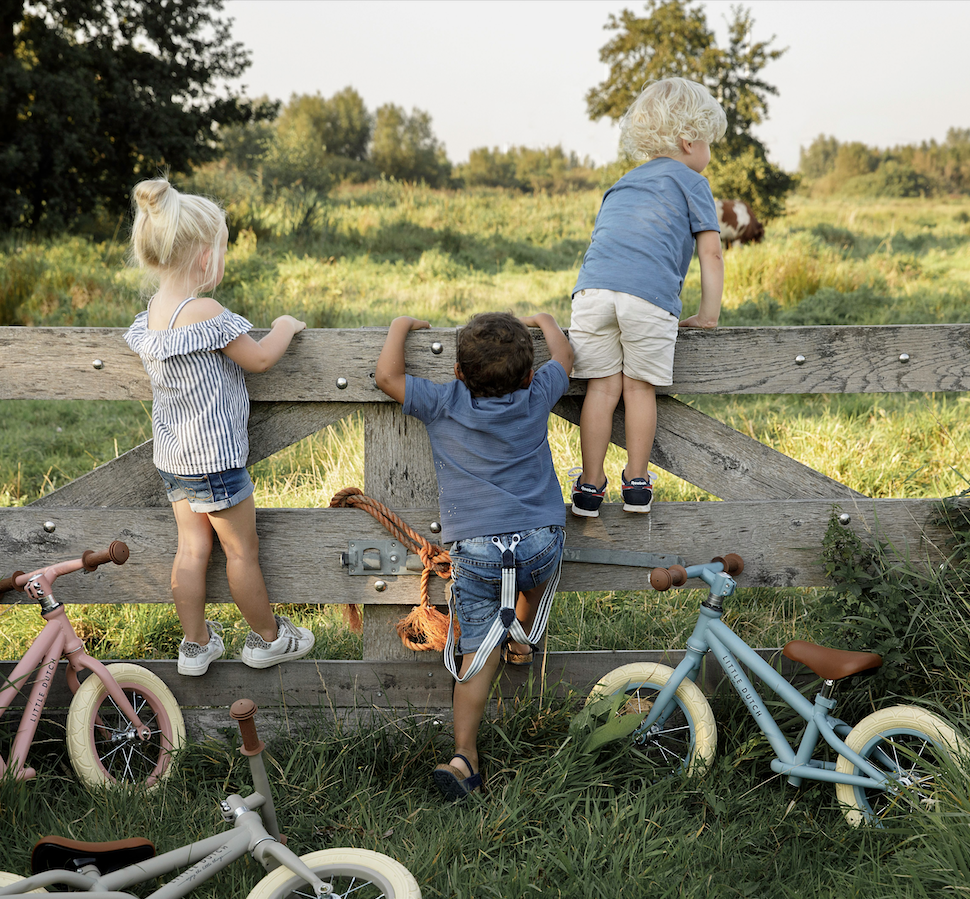 Neticēju, līdz pati nepārliecinājos. Savam otrajam mazulim pasūtīju draugu ieteikto Moonie lāčuku, tiešām strādā. Mazais mierīgi guļ, pie katra trokšņa neceļas augšā. Atvieglo manu ikdienu un nodrošina mazā sapnīšus saldus.